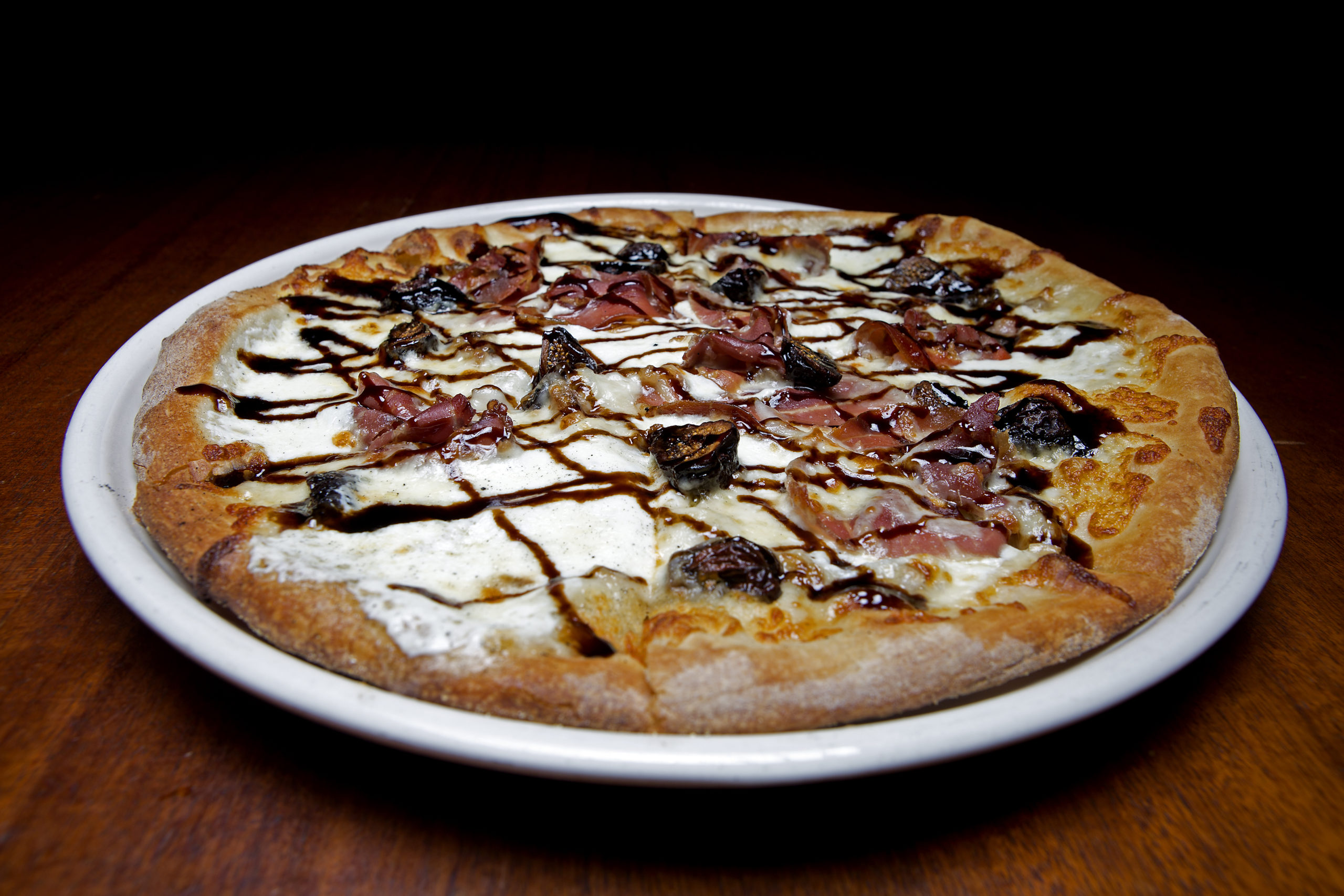 Prices are subject to change without notice, and availability may be affected.  Menus on this website may not reflect the current trends and availability.
We apologize for any confusion or inconvenience this may cause.
Margarita
mozzarella cheese, plum tomatoes,
fresh basil, tomato sauce
Pepperoni & Sausage
mozzarella cheese, pepperoni, sausage, tomato sauce
Beef Taco
cheddar cheese, red onion, ground seasoned sirloin,
jalapeno, tomatoes, shredded lettuce, ranch dressing
Disch's Cheeseburger
mozzarella cheese, onion, tomatoes, pickles,
ground sirloin, ketchup, mustard
Barbecue Chicken
mozzarella cheese, chicken, red onion, corn,
barbecue sauce
Buffalo Chicken
mozzarella cheese, blue cheese, buffalo chicken,
blue cheese dressing
Chicken BLT
mozzarella cheese, diced tomatoes, bacon,
lettuce, grilled chicken, chipotle mayo
Roasted Garlic & Spinach White Pizza
mozzarella cheese, feta cheese, spinach
sun-dried tomatoes, roasted garlic
Chicken Bacon Ranch
mozzarella cheese, grilled chicken, bacon,
ranch dressing
Greek
mozzarella cheese, feta cheese, grilled chicken
country olives, baby spinach
Mushroom Feta
mozzarella cheese, mushrooms, feta cheese,
caramelized onions, roasted garlic
Meat Lovers'
mozzarella cheese, sausage, pepperoni,
bacon, tomato sauce
Fig & Prosciutto
fresh mozzarella, figs, prosciutto, balsamic glaze
Chicken Pesto
mozzarella cheese, chicken, tomatoes, pesto
Grilled Chicken & Caesar
mozzarella cheese, chicken, tomatoes,
Caesar dressing, Caesar salad
Shrimp Scampi
mozzarella cheese, tomatoes, roasted garlic,
baby spinach, shrimp, garlic butter
Cheese
mozzarella cheese, tomato sauce
Additional Toppings
– barbecue sauce, broccoli, chipotle mayo, corn
jalapeno, lettuce, onions, peppers
roasted garlic, tomatoes
– buffalo sauce, capers, ranch dressing, balsamic glaze
 – bacon, blue cheese, feta cheese, mushrooms
pepperoni, spinach, sun dried tomatoes
 – country olives, figs, ground sirloin, ham
 – anchovies, artichoke hearts, buffalo chicken
grilled chicken, parmesan cheese, sausage
shredded cheddar cheese
 – pecorino romano cheese
pesto, prosciutto
Family Style Take Out Trays
All orders must be placed 24 hours in advance.  
Pickup must be by 6:00pm Monday – Thursday, and 5:00pm Friday – Sunday
Salads
Small (4-6) Large (8-10)
Caesar $32 $60
House $25 $47
Greek $36 $67
Extra Dressing $5 $10
Pasta
Small (4-6) Large (8-10)
Baked Ziti $37 $70
Mac & Cheese $42 $78
Chic, Broc, Ziti $42 $78
Pasta (Red Sauce) $22 $40
Extra Sauce $5 $10
(Alfredo, Marsala, Picatta, Panko, Scampi)
Entrees
Small (4-6) Large (8-10)
Chicken Parmesan $36 $67
Panko Chicken $40 $74
Steak Tips $75 $140
Chicken Picatta $38 $70
Chicken Marsala $40 $74
Buffalo Chicken $42 $78